Product Description
Details
Ibanez RGD71AL ANB Axion Label Electric Guitar 7 Strings
Multi-scale 7-string Performance with Epic DiMarzio Tone
Featuring DiMarzio Fusion Edge 7 humbucking pickups and a multi-scale neck, the Ibanez Axion Label RGD71AL combines epic tone with eminent 7-string playability. The DiMarzio pickups deliver a huge range of aggressive sounds, offering tight bass and crisp highs for especially epic metal tone. And the RGD71AL is loaded with the Gibraltar Standard II-7 hardtail bridge for maximum sustain and spot-on intonation. Complete with Gotoh locking tuners for impressive tuning stability, the Ibanez Axion Label RGD71AL is a gig-ready guitar that's sure to impress.
Fusion Edge 7 humbuckers: made for metal
The Fusion Edge 7 humbucking pickups on the Ibanez RGD71AL are the result of a collaboration between Ibanez and noted pickup maker DiMarzio. Designed for down-tuned metal, Fusion Edge 7 pickups deliver a powerful scooped sound with tight, compressed bass response and crisp high-end articulation — ideal for bludgeoning djent chugs and high-speed staccato riffing. The RGD71AL's DiMarzio Fusion Edge 7 pickups give you the aggressive yet precise tone that modern metal guitarists need.
Multi-scale frets for comfort, tension, and tone
Multi-scale frets are an exciting trend in guitar design aimed at down-tuned and technical playing. Matched to your fretting hand's natural angle of movement, you get a longer scale length on the bass side of the instrument and a shorter scale on the treble side. Not only does this offer you better intonation across all strings, but the higher tension on the low strings adds muscle and punch to your tone. The multi-scale neck construction equalizes that tension, resulting in a vibrant, open tone. At the same time, the higher strings have a familiar scale length for great single-string performance. While getting used to a multi-scale fretboard may seem intimidating, guitarists at Sweetwater have found that it's a very natural transition.
Your fingers will fly on this super-fast Nitro Wizard-7 neck
One of Ibanez's fastest necks to date, the Nitro Wizard-7 neck on the Axion Label RGD71AL is an absolute pleasure to play. This slim and super-comfortable neck lets you pull off lighting-fast runs and arpeggios with ease, but still gives you the substance you need for fretting chords. From the first time you wrap your hand around the Nitro Wizard-7 neck, you'll know you've got a guitar that was built with performance in mind.
SPEC
SPEC
neck type Nitro Wizard-7

5pc Panga Panga/Walnut neck

top/back/body Flamed Maple (5mm) top

Layered Ash body

fretboard Macassar Ebony fretboard

White Step off-set dot inlay

fret Jumbo Sub Zero treated frets
number of frets 24
bridge Gibraltar Standard II-7 bridge
neck pickup DiMarzio® Fusion Edge 7 (H) neck pickup

Passive/Ceramic

bridge pickup DiMarzio® Fusion Edge 7 (H) bridge pickup

Passive/Ceramic

factory tuning 1D,2A,3F,4C,5G,6D,7A
string gauge .010/.013/.017/.026/.036/.046/.059
nut Plastic
hardware color Black
NECK DIMENSIONS
Scale : 673mm/

26.5

"
a : Width 48mm at

NUT

b : Width 68mm at

24

F
c : Thickness 19mm at

1

F
d : Thickness 21mm at

12

F
Radius : 400mmR
SWITCHING SYSTEM
CONTROLS
OTHERS
Recomennded Case

MR500C

Luminescent side dot inlay
Schaller S-Locks strap lock pins
Luminescent Ibanez logo
Features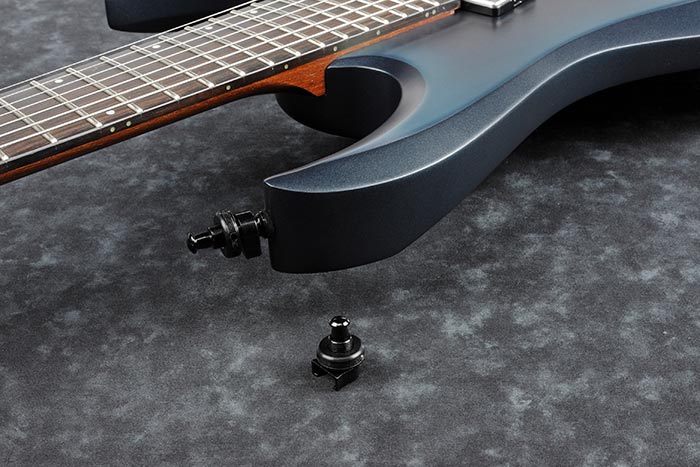 Schaller S-Lock strap lock pins
The Schaller S-Lock strap lock pins hold a strap securely but make it simple and easy to put the strap on and take off quickly.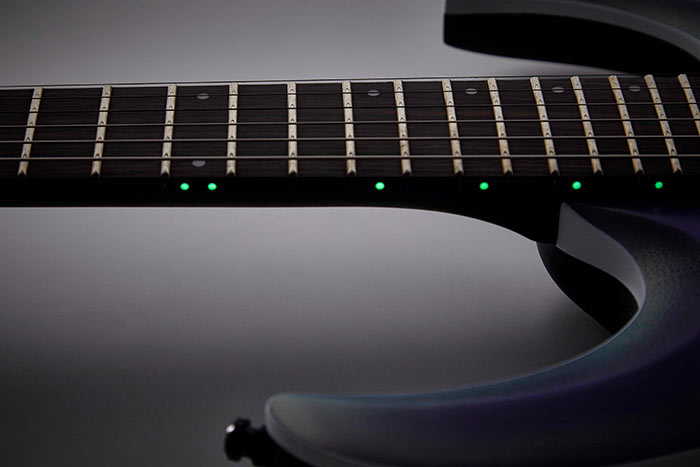 Luminescent side dot inlay
The luminescent side dot inlays make it easy for players to perform on dark stages, matching the dazzling luminescent Ibanez headstock logo.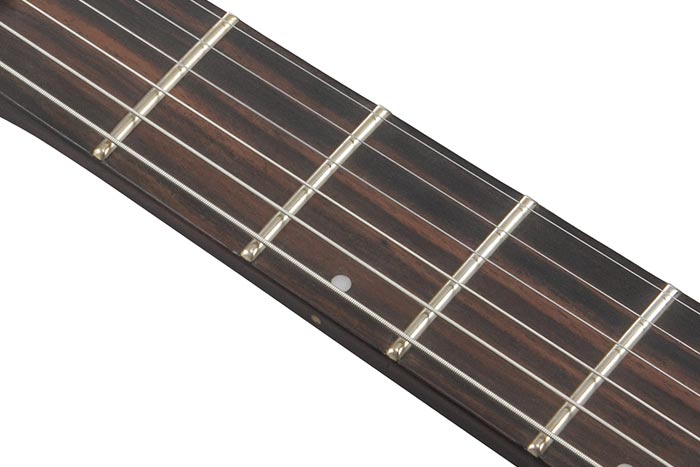 Sub Zero Treated Frets
The Sub Zero treated frets can stand up against the hardest riffing and string-bending.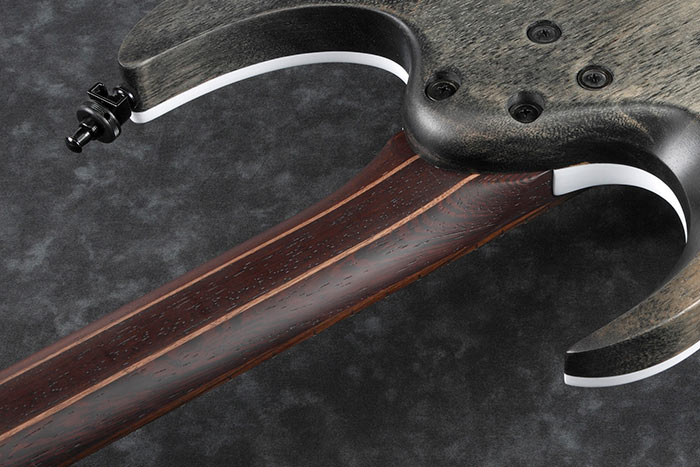 Nitro Wizard 5pc Panga Panga/Walnut neck
Super-thin and ultra-playable Nitro Wizard 5-piece Panga Panga/Walnut neck substantially increases sustain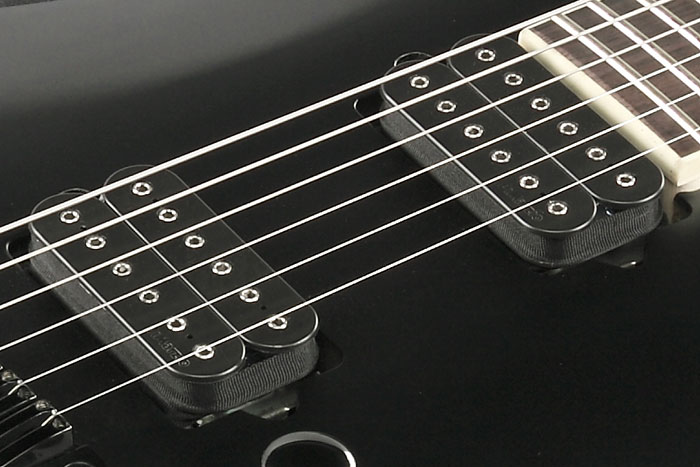 DiMarzio® Fusion Edge Pickups
Through close collaboration between Ibanez and DiMarzio® Fusion Edge pickups have been engineered to produce a powerful, distinctive tone with a crisp, cutting high end, and a tight, compressed bottom end, minus any muddy mid-range.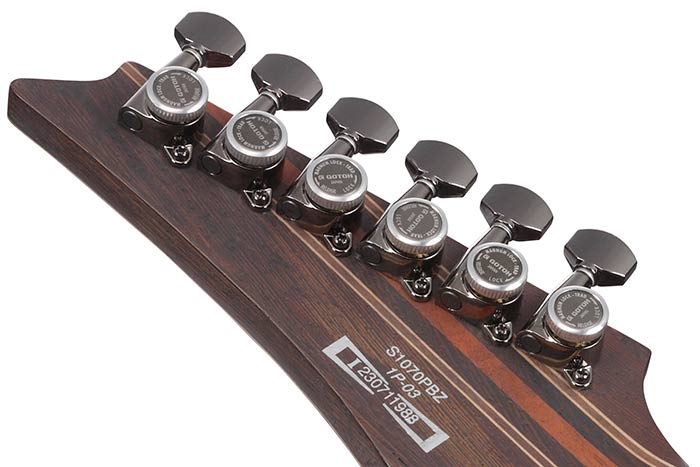 Additional Information
Additional Information
| | |
| --- | --- |
| Color | Antique Brown Stained Burst |
| Country of Manufacture | Indonesia |
Reviews
Return & Refund
NO RETURN POLICY.
We ship the Musical Instrument in a wooden crate so that it reaches safely. We check the guitars for action,pickups and everything.then only is the guitar shipped to the customer.. Quality checks are maintained at all levels for other musical instruments and products also so that the gear is perfect condition..
Kindly mail us at rajesh.musiciansmall@gmail.com the cancelled order number,bank account details,ifsc code so that we can initiate the refund at the earliest.